Donations
As a local charity we rely upon the generosity and support of local individuals, churches and businesses to fund us. Could you be part of that support?
£5 would provide 10 foil blankets to help minimise the risk of hypothermia

£10 provides 10 pairs of flip flops for those who have removed their high heels and run the risk of injury from broken glass.

£30 fills our team bag with coffee, hot chocolate, foil blankets, first aid and flip flops.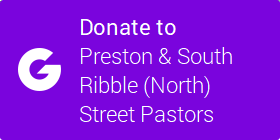 You can give monthly by direct debit or give a one off gift – and if you are tax payer you can increase your giving through Gift Aid. Contact us for details.
Thank you to everyone who gives and to the churches that support us.